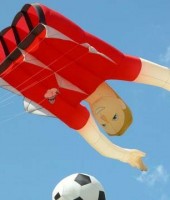 Top Half
The partner to Martin's Legs, waves his arms and nods his head in flight, and comes in three sizes.
3D wind inflated kites without frame – no assembly. All these kites are true kites – they fly by themselves and do not need a pilot or lifter kite to keep them in the air.

Standard:
Size: 0.80m x 2.40m.
WR: force 3 – 5
Price: £180
Big:
Size: 2.70m x 8.50m.
WR: force 3 – 5
Price: £1485
Mega:
Size: 5.50m x 17.00m
WR: force 3 – 5
Price: £POA
I have recently updated all the framed kites – replacing the original wooden frames with carbon fibre rod or tube for extra strength and lightness. I've also started using a lighter ripstop nylon which decreases the weight of the kites significantly – especially the larger ones. This increases the wind range they will fly in and of course helps with your luggage allowance when you are travelling!
The first one I designed was the Legs kite – it was originally made in response to a joke advert that would take too long to explain here – followed a few years later by the Top Half.
Finally I put the two pieces together and created the Scuba Diver. This was followed by a couple of variations on the theme of the full body – now known as Albert Ross – the Flying Man, in sweatshirt and jeans, and the Spirit, a more abstract version with superb light wind performance. Each of these kites is made in three sizes – standard, midi and big, though I have made the Legs and Top Half in Mega size as well!
I endeavour to keep the standard sizes in stock and make the midi and large sizes to order – allowing for some customisation with regard to colour and design.