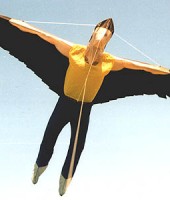 Icarus
A full size version of the character from Greek myth, but dressed in T shirt and jeans.
3D wind inflated kites with carbon and fibreglass frames.

Size: 2.52m x 1.80m.
WR: force 3 – 4
Price: £210
I have recently updated all the framed kites – replacing the original wooden frames with carbon fibre rod or tube for extra strength and lightness. I've also started using a lighter ripstop nylon which decreases the weight of the kites significantly – especially the larger ones. This increases the wind range they will fly in and of course helps with your luggage allowance when you are travelling!
These were the first kites that I started producing, trying to make a more lifelike representation of natures originals than traditional kite design allowed. (Okay – Icarus was a figure from legend, but you get my idea!).
I make these kites to order only, and have made other versions based on these designs – Barnacle Geese, Peacocks, Ravens and Storks. So if you have a favourite feathered bird that I don't produce – get in touch and I'll see what I can do.